Dear fellow members and guests,
You are invited to join the meeting of Chungli Toastmasters Club on 2015-11-27. Enclosed please find the agenda.
This week we are lucky to have two special guests: Mr. Josh Yang and Mr. Elmo Chiu. Ms. Josh Yang is Legend Club President, will be Evaluator. Mr. Elmo Chiu is Taoyuan Club VP Education, will be Language Evaluator. They're experienced Toastmasters. We must can learn a lot from them. And Richard, Lin Lin & Nai-Ling, three of our outstanding officers will deliver their speeches. Furthermore, our VPM David will host the meeting. He has set the meeting theme as "Birthday". How's your birthday this year or how will you celebrate it?
Take that! Ladies & gentlemen, this kind of combination will definitely produce a lot of sparks. How exciting! Can't wait to attend the meeting this Friday night.
Come and join us
Meeting venue: 凡是美藝廊-中壢市裕民街18號2F.
Date: 2015-11-27
Time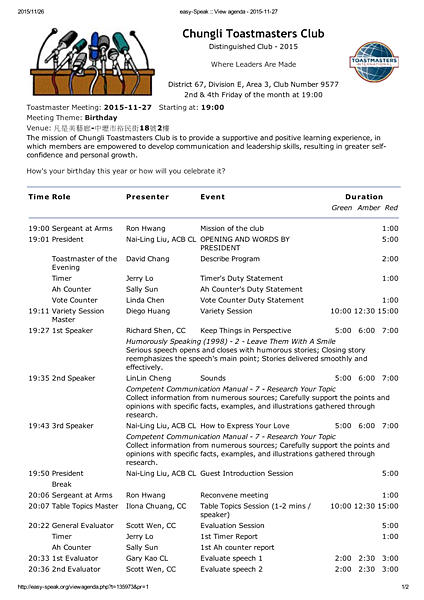 : 19:00 ~ 21:00